Our Services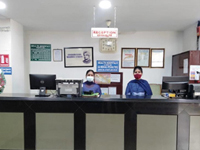 Reception
Health Hospitals is  authorised for Aarogyasri scheme.
Health Hospitals is authorised for A.P. Govt. employees medical reimbursment.

Emergency
24 hour Emergency manned by qualified medical officers and well trained staff.
Trauma, emergency and M.L.C. cases are accepted round the clock.
Emergency is supported by 24 hour Lab & Radiology services.
Laboratory
Best diagnostic equipment for
1. Biochemistry
2. Haematology
3. Serology and
4. Microbiology
Pharmacy
Round the clock Pharmacy.

E.C.G.
Best equipment and well trained staff for Electrocardiography.

TMT
Latest model treadmill to conduct the Stress Test.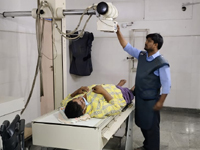 Radiology
Agfa CR35-X Digital X-Ray system and well trained staff to man the Radiology round the clock.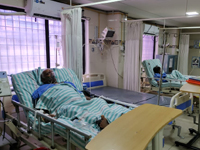 I.C.U.
12 bedded I.C.U. with 6 ventilators, Multipara Monitors, Arterial Blood Gas Analyser, Infusion and Syringe Pumps and Pulse Oximeters.

Dialysis
Dialysis machine to help the Renal failure patients.

Post Operative Ward
10 bedded Post Operative Ward with best equipment and well qualified staff.

Operation Theatre
Two well equipped Operation Theatres with a "C" Arm to undertake General, E.N.T., Laparoscopic and Orthopaedic surgeries.
Highly Qualified Surgeons and Well Trained Staff are available round the clock to extend surgical care for the emergency and trauma.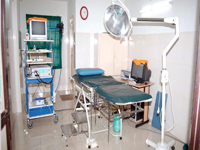 Labour Room
Well equipped Labor Room.
Highly qualified Gynaecologists to conduct the deliveries of every category.

Aarogyasri Ward
20 bedded Aarogyasri ward.
Only hospital recognised by Government of A.P. for Aarogyasri scheme in Tenali Revenue Mandal.
Wards
Well furnished wards with single and sharing rooms.
Some of the rooms are air conditioned for patient comfort.
All the wards and rooms are spacious and comfortable.
Corridors are provided with seating arrangement and drinking water facility for the waiting attendants.
Every ward is provided with Nursing stations with all the necessary medication and equipment like nebulisers for emergency medical treatment.
Ambulance
Well furnished Ambulance for the transportation of patients.
Non-ambulatory patients can alight in the cellar from where they will be taken to Emergency.
Ventilator facility with 24 hour ER team to cater any emergency.
Physiotherapy
Packages
General Health Checkup

- ESR
- C.B.P
- Lipid Profile
- F.B.S
- Total Protiens
- Serum Billirubin
- Sr. Creatinine
- Sr. Calcium
- Blood Group
- H.I.V
- H.Bs.Ag
- Liver Function Tests
- Complete Urine Exam
- Stool Exam
- Chest 'X' Ray
- E.C.G

Master Health Checkup

- Echo
- T.M.T
- ESR
- C.B.P
- Lipid Profile
- F.B.S
- Total Protiens
- Serum Billirubin
- Sr. Creatinine
- Sr. Calcium
- Blood Group
- H.I.V
- H.Bs.Ag
- Liver Function Tests
- Complete Urine Exam
- Stool Exam
- Chest 'X' Ray
- E.C.G

Well Women Health Checkup

- CBP(CELL COUNTER)
- FASTING BLOOD SUGAR
- PP BLOOD SUGAR
- SERUM CREATININE
- BLOOD UREA
- SERUM BILIRUBIN
- H.B A1C
- LIPID PROFILE
- URINE ANALYSIS
- E.C.G.
- 2D ECHO
- Conssultation Charges

Executive Health Checkup

- CBP(CELL COUNTER)
- BLOOD GROUP RH
- FASTING BLOOD SUGAR
- PP BLOOD SUGAR
- SERUM CREATININE
- BLOOD UREA
- TOTAL L.I.F.
- URINE ANALYSIS
- LIPID PROFILE
- E.C.G.
- ChestPA X-Ray
- 2D ECHO
- ULTRASOUN ABDOMEN
- Conssultation Charges

Cadiac Health Checkup

- HB%(CELL COUNTER)
- BLOOD GROUP RH
- FASTING BLOOD SUGAR
- PP BLOOD SUGAR
- SERUM CREATININE
- E.C.G.
- Chest PA X-Ray
- 2D ECHO
- TMT
- Consultation Charges
- LIPID PROFILE

Diabetic Health Checkup

- CBP(CELL COUNTER)
- BLOOD GROUP RH
- FASTING BLOOD SUGAR
- PP BLOOD SUGAR
- SERUM CREATININE
- SERUM BILIRUBIN
- URINE ANALYSIS
- LIPID PROFILE
- T3,T4,TSH
- E.C.G.
- Chest PA X-Ray
- ULTRASOUN ABDOMEN
---